A future without limits
Together with families and communities, KIPP Jacksonville creates joyful, academically excellent schools that prepare students with the skills and confidence to pursue the paths they choose – college, career, and beyond – so they can lead fulfilling lives and create a more just world.
ABOUT KIPP JACKSONVILLE PUBLIC SCHOOLS
Every student walks through the doors of school bearing gifts. Talent. Perspective. Drive. Inspiration. So at KIPP Jacksonville Public Schools, we support every student to see those gifts, then build the skills and confidence they need to become accomplished adults.
We see each student as an individual, matching what sparks their curiosity with what and how we teach. We challenge their minds while nurturing their joy of learning – whether they are working to read their first word or solve their first calculus problem. We prepare every student for college and celebrate all paths to a fulfilling life. And we join together with families and communities, partnering to pursue the more just world we all want to see.
KIPP is a non-profit network of college-preparatory public charter schools educating elementary, middle, and high school students. We work with over 100,000 students in 255 schools across the United States, including Jacksonville. To learn more about our national program, click here.
KIPP JAX Public Schools brings together KIPP Bessie Coleman Academy, KIPP VOICE Academy, KIPP Impact Academy and KIPP Bold City High School. In 2010, we opened our doors with 90 fifth graders. Our schools have now grown to educate more than 2,500 students across north and west Jacksonville. KIPP Bold City High School opened in the fall of 2021 and will have its first graduating class in 2025, creating a solid K-12 pathway for students to thrive.
Every Child Grows Up Free to Create the Future They Want for Themselves and Their Communities
In partnership with families and communities, we support students to reach their highest aspirations by providing access to college and career counseling, social services, and comprehensive student offerings, so that each child can create a vibrant future for themselves and their community.
Our success is driven by our values.
Committed to Community. We amplify our community's strengths and center the perspective of our students and families. We create opportunities to connect our school community with our neighborhood.
Leading with Equity. We foster an inclusive environment where each member of our school community can reach their full potential. We strengthen our programs, practices, and policies through a lens of racial equity.
Team and Family. We seek to develop joyful and caring relationships with students, families, staff, and partners. We work as a team to challenge and support one another to reach our collective goals.
Continuous Growth. We embrace challenges as opportunities to grow. We are life-long learners who take ownership and identify solutions to drive our work forward.
High Expectations for All. We believe that our students, families, staff, and community are capable of excellence in every realm. We relentlessly pursue exceptional outcomes for every member of our school community.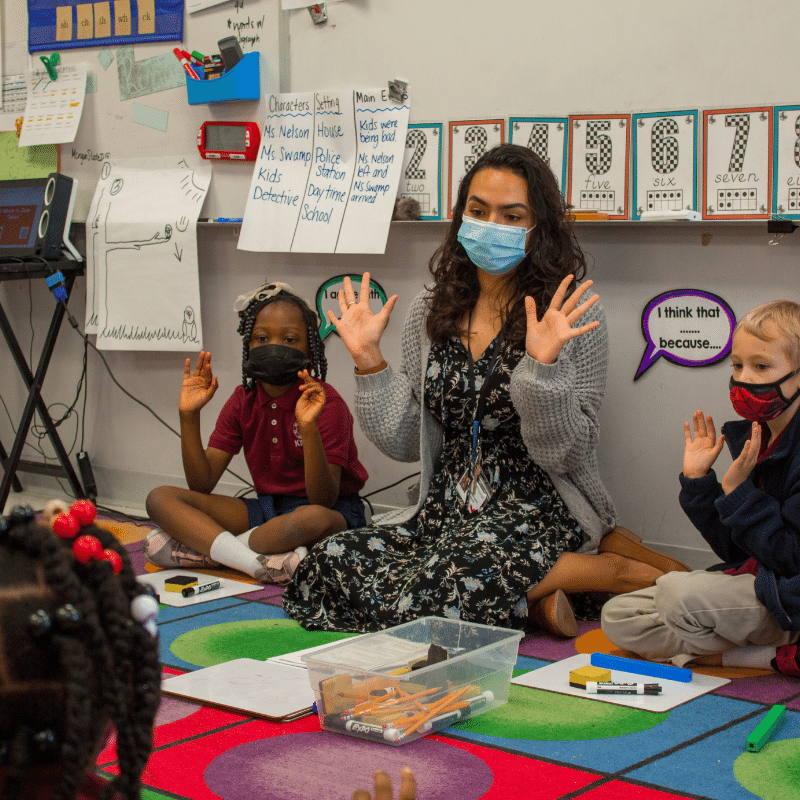 Our Commitment to Racial Equity
In our desire to foster an inclusive, anti-racist organization that delivers equitable outcomes for all, we amplify our communities' strengths, center the perspectives and cultures of students and families, and place racial equity at the heart of our existence.
71% of KIPP Jax teachers in the 2020-21 school year share the racial background of our students and families. By 2025, it is our goal for 70% of staff across all levels of the organization to be racially representative of KIPP Jax families.