SUPPORT US
Opportunities to get involved with KIPP JAX.
Become a Financial Partner
We believe every student walks through the doors of school bearing gifts. Talent. Perspective. Drive. Inspiration. So at KIPP JAX Public Schools, we support every student to see those gifts, then build the skills and confidence they need to thrive.
But we can't do that work alone. The generosity of individuals, foundations, and corporations enables us to provide our students with a rigorous, well-rounded education and our alumni with robust ongoing support. We are grateful for the opportunity to partner with you and empower our students to achieve their highest aspirations.
VOLUNTEER AT
KIPP JAX
KIPP JAX hosts a variety of volunteer opportunities throughout the year. If you'd like the opportunity to complete hands-on projects that directly impact students and teachers, sign up to receive our newsletter below. You will stay informed about our opportunities.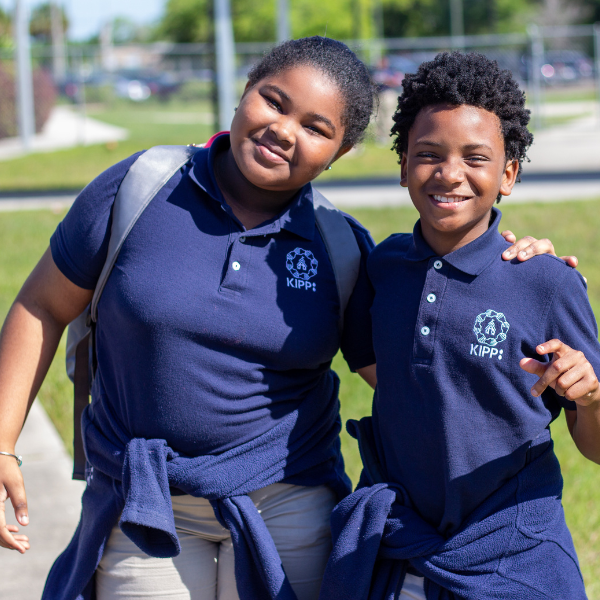 KIPP JAX CORPORATE SPONSORS
KIPP JAX Public Schools would like to thank the individuals, foundations, and corporations who supported our Family Feud fundraising event efforts during the 2021-2022 School Year. Your generosity ensures that current and future KIPP JAX students have the resources necessary to achieve their highest aspirations and create a more just world.
Valedictorian
Summit Construction Management Group
Magna Cum Laude
Dixon Hughes Goodman LLP

Duval Motor Company
Daily's Foundation
JP Morgan Chase & Co.
Arthur Vining Davis Foundation
Bartfield Family Fund
Cum Laude
SLA Management
Beaver Street Fisheries
Honor Roll
Bono's Pit Bar-B-Q
The Fiorentino Group
Smith, Hulsey, & Busey
Kellie and Drew Prusiecki
Baptist Health
Intrepid Capital